Dance for the Trees invites you to Join the Biggest Party on Earth & Create a Dancing Planet !!!
Dances, Dinners, Concerts, Cabarets, Parties, Picnics, Fun, Festivals & Community Events
Party for Your Nature & Create a Dancing Planet !!!
Creates Awareness & Income for local issues
Connects & Celebrates People & Planet
Attracts New People to Nature care
Inspires You, Kids Youth, Elders
Builds Inspired Vital Teams
FREE promotional tools
It's Fun !!!
Join the Biggest Party on the Planet !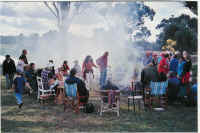 ---
3,000 African Warriors created the best known  Dance for the Trees in Kenya in 1922.
From this event grew the worlds most successful tree planting organization active worldwide (see Foundations below)
You are invited to Create or Join a "Dance for the Trees" Event . 
Introduction – Trees are a pathway for energy from the sun and stars through to the Earth – a connection between "Heaven and Earth". Most people feel more relaxed and creative amongst trees. One reason for this is the calming energy they emit – remember how you felt on your last walk in a forest ? Leaves of trees gather the energy from the heavens and pass it via the trunk to the roots, where energy feeds micro-organisms to enrich the soil and Earth. Energy from the Earth also flows back up the trees to our atmosphere and beyond. Trees are transformers of heaven's energies to complex matter such as carbon & oxygen. Humans do this too … "Walking trees" are how indigenous people have described humans. So ….. all singing & dancing is for the trees ….. including the "walking trees" …. people.  See Old Growth Forests boost Innovation
Now, "Dance for the Trees" is an opportunity to bring balance and vitality back to our lives & community … to build richer relationships with each other & nature,…. and to assist creation of trees by support of environmental & other groups…. for the enrichment of the nature of people, nature and communities. "Dance for the Trees" are locally organised events promoted & supported by us, such as Dances, Dinners, Concerts, Cabarets, Parties And Picnics. You can have fun, and assist with creating a "Dance for the Trees" in your area, or become a partner in this event and tap into triple bottom line benefits.
Objectives – * Connecting People… * Creating Enriched Communities …. * Celebrating Life !!!
Our Vision…
A Singing & Dancing Planet … Created by People Celebrating Life !!
Join the Party !!!
Register Your Interest &/or ORDER these kits for Your Easy Event Planning & Promotion – Use form below 
Order Event Toolkits now + GET A FREE WEBPAGE to promote your event
Create  a " Dance for the Trees" in Your Community 
Call for details & information kit – & to Register your interest or event
Order details – Click here for  Vitality Toolkits
Call  +61 417 244 600
Tell us about your event – Email vision @ australianvisions.com.au

Email for FREE promotion & event tips + FREE "Natures Laws" !!!